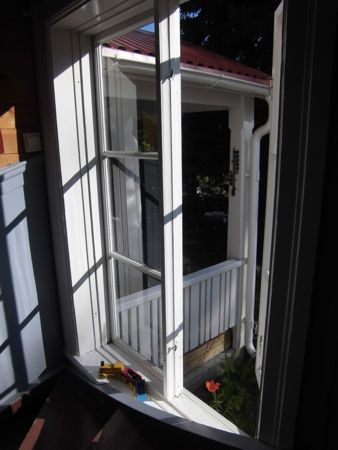 Det är sånt här som gör mig lycklig och påminner mig om att jag älskar mitt hus. I sommaren, i värmen, tar jag bort innanfönstren i trappfönstret. Det var länge sen jag putsade glasen här och nu har jag sytt nya gardiner hit. Jag sitter i trappan och ser eftermiddags-ljuset falla in och jag faller jag med! Faller handlöst för kärleken till huset, till ljuset, till det lilla i min tillvaro här i norr. Ibland behöver jag inget mer än så. Och i vardagsrummet sjunger Peter LeMarc: Det här är min kyrka.
Tillägg: Poeten Quintus Horatius Flaccus (65-8 f Kr), sa i Odes Book I:
Dum loquimur, fugerit invida Aetas: carpe diem, quam minimum credula postero
dvs While we're talking, envious time is fleeing: pluck the day, put no trust in the future.